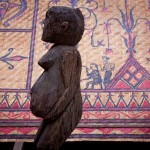 Being a guidebook author and a journalist, I travel a lot for work – and for leisure: I didn't get into this job by accident. So when I became pregnant, I thought I'd make some adjustments but it never crossed my mind to stop travelling altogether. Minor concessions were all that was required. Read the full story here.
Published on lonelyplanet.com, 14 July 2014.
Photo by Chris Goldberg, on Flickr.